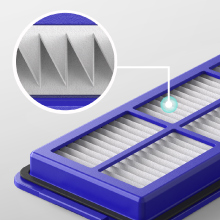 Minimum Hassle, Maximum Convenience
The redesigned Unibody Filter increases efficiency and lasts longer which means less fuss for you.
Holds More
The larger, upgraded dustbin allows RoboVac to handle more dust, fluff and crumbs with ease. The increased capacity means less maintenance for you.
Disturbs Dust Not People
Advanced brushless motor significantly reduces vacuuming noise.
3-Point Cleaning System
Three brushes and strong suction power effectively loosen, extract, and vacuum dirt to give a superior clean.
Safe Upstairs
RoboVac uses advanced sensors which detect drops to avoid falling down stairs and off of ledges.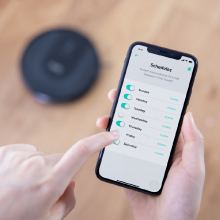 Routine Cleaning
Customize a cleaning schedule that suits you. Simply set RoboVac to clean any time, any day, all via your phone. Select multiple days and ensure your floors are always spotless.
Smooth and Smart Transitions
Large wheels roll over carpets and climb over door ledges to get to the mess.
Knows Your Home
With over 10 built-in infrared sensors Robovac is constantly aware of its surroundings.
RoboVac 15C MAX
Slim, Connected and Stronger Than Ever!
Complete Control
Alexa & the Google Assistant connectivity - Simply ask and RoboVac will take care of the cleaning while you sit back and relax.
Use the app to set RoboVac to clean, regardless of where you are!
Eliminate Vacuuming Chores
RoboVac takes on dust-busting around your home so you don't have to. Multiple cleaning modes ensure an effortless, thorough clean while you relax.
Lean, Mean, Cleaning Machine
2000Pa of suction power ensures your home is clear of dirt, dust, and crumbs. RoboVac may be super-slim, but it's packed with a 3-point cleaning system consisting of a suction inlet, rolling-brush, and side-brush deliver meticulous cleaning.
Cleans While You Relax
Refined from the inside out to provide quiet vacuuming with zero hassle. RoboVac cleans with the equivalent volume of a microwave and is only 2.85" tall.
More Dust, Less Fuss
A large 0.6L dustbin allows RoboVac to pick up more dirt and dust to make the most of 100 minutes** of continuous cleaning.
Premium Components
The anti-scratch tempered glass cover provides a sleek look and superior protection for RoboVac, while the unibody filter achieves a better clean for your home.
For Optimal Use:
- Use on low- to medium-pile carpets, tile, laminated, and hardwood floors. Not suitable for high-pile carpet.
- Move cables out of the way or use the cable ties provided to avoid tangling.
Note:
**Standard suction mode (hardwood floors) approx. 100 mins of cleaning. BoostIQ mode (carpeting) approx. 60 mins of cleaning. Max suction mode on medium-pile carpets approx. 40 mins of cleaning.
Make sure you are using a 2.4GHz router or a dual-band router that is configured to support a 2.4GHz frequency band. RoboVac doesn't support 5GHz frequency band.